The All New Cocoon Eco Towels
Posted By: Toby Published: 17/11/2023
Cocoon Eco Towels

Introducing the new sustainable Eco Towel from Cocoon:
Many of you are probably familiar with the already fantastic Cocoon towels. Well now they are offering a fantastic sustainable bio-degradable version!
- A skin-friendly, super-soft travel towel
- Made of fast growing, sustainably harvested Eucalyptus trees
- Packed in a multipurpose stuff sack made of 100% recycled nylon
- Highly absorbent and dries quickly
- 100% bio-degradable
What's not to love about an amazingly soft, fast drying, lightweight packable travel towel that's great for the environment. Available in 4 different sizes to suit your travel needs from small hand towels to large shower sized towels.
Looking after your eco towel is as easy as a low temperature wash and air dry ready to be packed away for its next adventure.
Did you know?
Cocoon travel sheets, mummy liners and accessories are the result of life-long travel experience. The Cocoon story started in 1989 after the company founder, Josef Sturm, was almost swept away in a Balinese river while trying to wash a bulky, sewn-together cotton sleeping sheet. This inspired him to design a range of compact, lightweight sleep systems to suit the needs of adventure travellers around the world.
Over 30 years later Cocoon are still at the forefront of innovative fabric and product design with the Cocoon Eco Towel being the latest addition.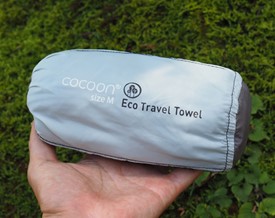 Comments
BACK