Sustainable & Ethical? – that's MPOWERD in a nutshell
Posted By: Jason Published: 03/02/2020
At First Ascent, we love our solar Luci Lights from @Mpowerdinc, but we also love the way MPOWERD make a real difference around the world☀️
Here's what they have to say!
We're on a mission to transform lives with thoughtfully designed, clean technology. Our innovative products give people the power of self-reliance — because we believe that everyone deserves to be empowered and inspired regardless of how or where they live.
M-POWER-D
We often get asked the meaning behind our name, so without further ado... MPOWERD stands for Micro POWER Design.
Micro: Create simple, portable, and personal products.
Power: Provide clean technology to expand opportunities.
Design: Combine form and function in all products.
It also turns out that when combined it's reminiscent of a word that is a core value to our brand: empower. There you have it!
Why we do it
We believe that everyone deserves access to clean, reliable and affordable energy, no matter how or where they live. We also believe that the Earth deserves a little more love too. For over 3 billion people, everyday tasks are made more difficult (and dangerous) than they should be. Access to clean energy can improve health, create education equality, economic empowerment, all the while combating climate change.
Renewable energy is the future, and we aim to create responsibly crafted, sustainable products that, while addressing a particular need, have a positive impact on the environment.
Solar Lanterns – lightweight, waterproof, inflatable & 100% solar charged.
· Outdoor 2.0 - Powerful and portable, this solar lantern is ready for adventure. Long-lasting, powerful, and completely solar, Luci Outdoor 2.0 keeps you out of the dark, no matter how far off the grid you go.
Lux - Bright, warm light in the palm of your hand. Compact and durable, this solar lantern can withstand up to 150 lbs of pressure, while providing a soft light that lasts long into the night.

Candle - Turn your space into a soothing retreat with Luci Candle, our most inviting light. With a matte finish, steady amber glow and comforting flameless candle flicker, Luci Candle adds a touch of zen to your patio, yoga studio or dinner table. Because it's completely solar and lasts for hours, Luci gives you peace of mind where traditional candles can't – no batteries needed. Safely enjoy the light's warm radiance in the bath, bedroom or on a bookshelf, even around kids and pets.
EMRG -Luci EMRG is a pocket-sized solar lantern. Flashlight, and emergency light all-in-one. Needing only sunlight to stay charged, Luci EMRG shines reliably through storms, powercuts, roadside trouble or whenever you need light. Waterproof, lightweight, and extremely durable, tuck one in your travel bag, keep one in your car and store one in your emergency kit.

Colour - Luci made colourful. With 8 bold hues, a sparkle finish, and lasting 6 hours on a single charge, this solar lantern is perfect for adding a splash of colour to your life.
Essence - Colourful light to brighten your space. With 8 unique colours beaming through a soft matte finish, this solar lantern is the easiest way to add more colour to your life.
Mobile Charging – lightweight, waterproof, inflatable, solar & USB charging options, power bank.


Outdoor 2.0 Pro / Lux Pro - Power up with the Pro Series solar lights. With mobile charging capabilities, 150 lumens, and lasting up to 50 hours on a single charge, this compact solar lantern will take you further than ever before.
Base Light - Extending the day into night. With 360 lumens, mobile charging, and lasting up to 50 hours on a single charge, Luci Base Light is a must-have solar lantern for any adventure.
String
Solar String Lights - We've put the sun on a string. Hidden inside the expandable unit, Luci Solar String Lights pack 100 lumens into 10 nodes on an 18 ft cord. Along with mobile charging capabilities, this is the perfect way to light up your space.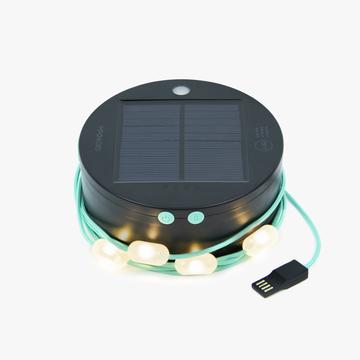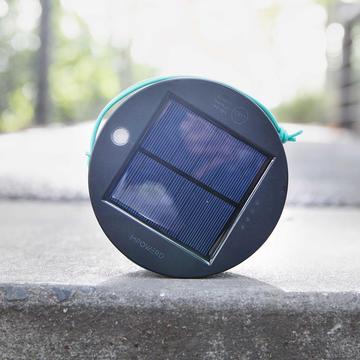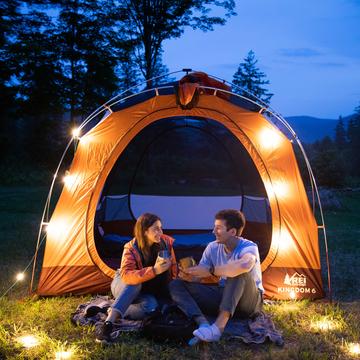 Utility
Luci Core - Task light, emergency light, overhead light, Luci Core does it all. With its adjustable arm, you can direct light however you choose for up to 12 hours on a single charge. This rechargeable solar lantern shines wherever you need it.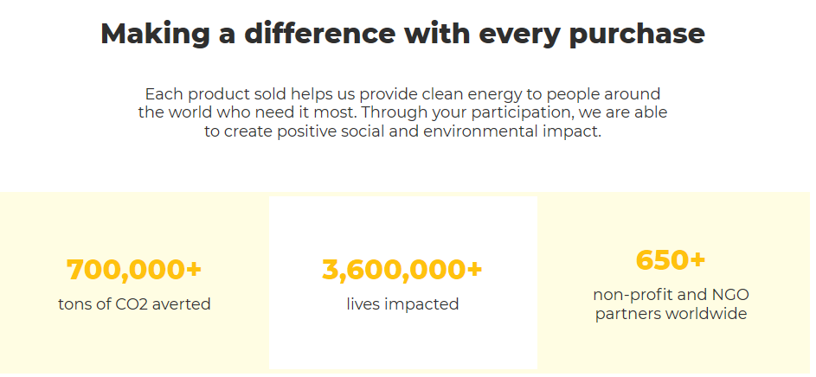 How we do it
As a B Corp, we use the power of business to build a more inclusive and sustainable economy. Aside from our Give Luci Program - which donates lights to our partners* - our sustainable business model means that the more we sell here at home, the more affordably we can sell to emergency markets and emergency response situations.
Certified B Corporations are a new kind of business that balances purpose and profit. Certified B Corporations® (B Corps™) are for-profit companies that use the power of business to build a more inclusive and sustainable economy.
We are legally required to consider the impact of our decisions on our workers, customers, suppliers, community, and the environment. We're a community of leaders, driving a global movement of people using business as a force for good.
And we're in great company; Patagonia, Ben & Jerry's, Allbirds, Cotopaxi, Bombas, Athleta, Kickstarter, and Klean Kanteen, just to name a few!
Mpowerd's B Corp status means you can feel good about shopping, safe in the knowledge that consumerism isn't always unsustainable.
· A selection of Mpowerd's partners: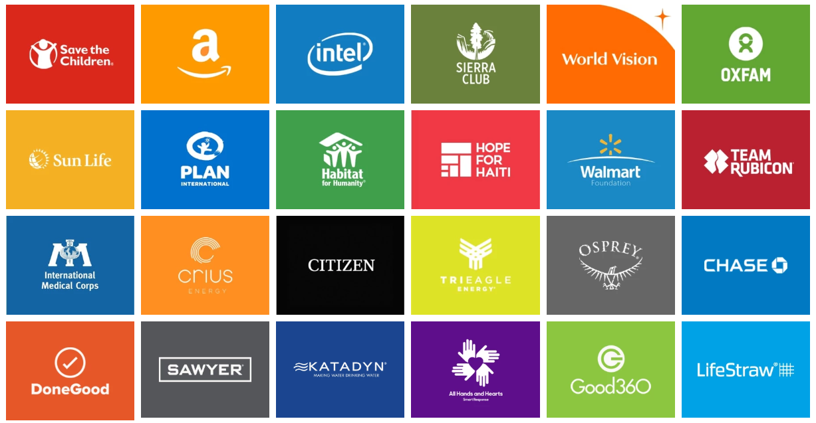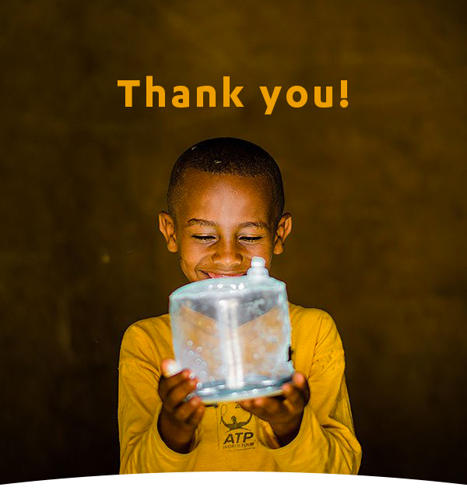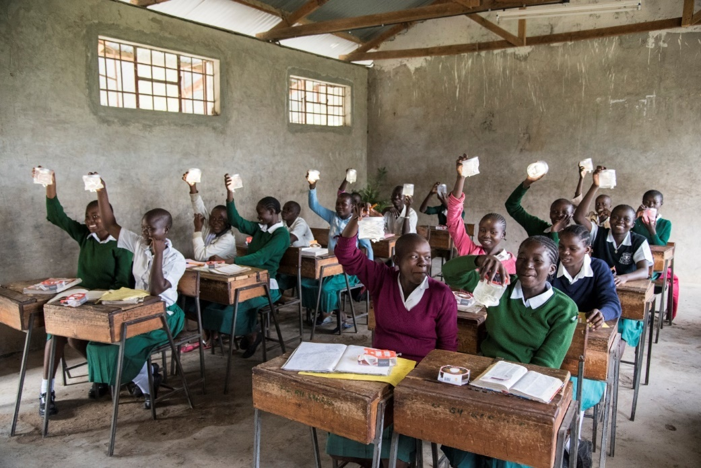 You can find out more about Luci Mpowerd products and relief projects here: www.mpowerd.com
Supporting Data: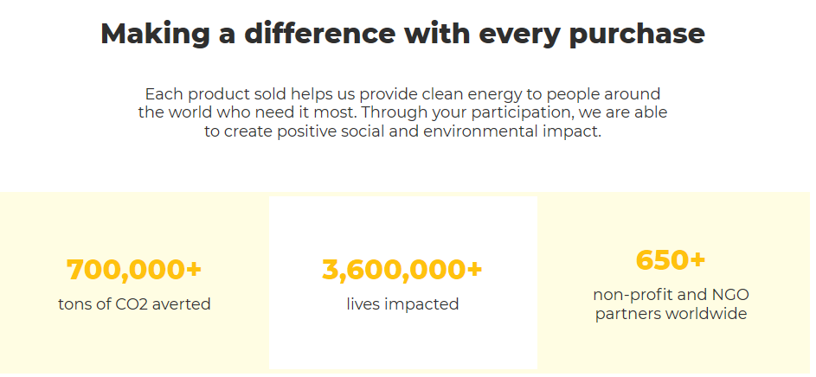 Putting it as simply as possible, the estimations are based on;
· Each light "averts" 371kg of CO2 per year.
· Each light "affects" 5 people.
These metrics are calculated and given not by Mpowerd, but by an independent organization: "GOGLA The Industry Association for the Off-Grid Lighting and Electrification Sector".
We do seem to live in a time where it is sometimes difficult to discern fact from fiction, so for those who are interested, here is a little more insight into Mpowerd's status as a "B Corp" and "GOGLA The Industry Association for the Off-Grid Lighting and Electrification sector".

About B Corps
"Certified B Corporations are businesses that meet the highest standards of verified social and environmental performance, public transparency, and legal accountability to balance profit and purpose. B Corps are accelerating a global culture shift to redefine success in business and build a more inclusive and sustainable economy".
You can check Mpowerd's B Corp status here : https://bcorporation.net/directory/mpowerd-inc

"GOGLA is the global association for the off-grid solar energy industry. Established in 2012, GOGLA now represents over 160 members as a neutral, independent, not-for-profit industry association. Our services assist the industry to build sustainable markets and profitable businesses delivering quality, affordable off-grid electricity products and services to as many customers as possible across the developing world".
You can check GOGLA here: https://www.gogla.org/about-us
The calculations behind the claims of CO2 reduction and lives impacted are done as objectively and fairly as possible. There are many factors to consider, so the calculations behind the CO2 and lives impacted claims are necessarily quite complex. If you are interested in the detail, this link goes to a good summary of the methodology;
https://www.gogla.org/sites/default/files/gogla_impact_metrics_summary_v2.pdf
Comments
BACK